FDC Group Scholarship Day
On July 4th, FDC Group welcomed a large group of management and staff to the inaugural Scholarship Day. The objective was to bring together our 2022 scholarship recipients from University College Dublin (UCD) and University College Cork (UCC) and share FDC Group experiences, ideas and aspirations. On the day, there were discussions on the future of FDC Group, the future of the Co-operatives and a focus on how our scholarship students can make valued contributions to the world of Consultancy.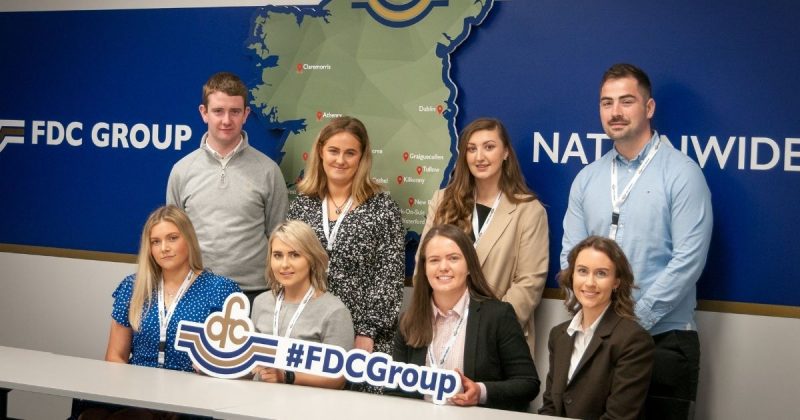 As advisors of choice in rural Ireland, we are proud of our roots.  Serving the farming and business community in the heart of rural Ireland for almost 50 years, we remain true to our core values. Participants discussed how FDC Group can progress based on innovation, future challenges and transformational qualities.
The day opened with Barry Murphy (Deputy Head of FDC Group) speaking on how FDC Group are embracing the volatility in the agricultural sector and how we work with our clients to position them for the future. Given current trends and happenings, it has never been as important to FDC's clients to be future-proofed, and Barry demonstrated this by focusing on FDC Group quality of how we develop ourselves to develop others.
Following this, Joe Collins (FDC Group Agricultural Consultant) talked about the challenges and qualities required to embark on an Ag Consultant career. He spoke about his journey and experience, sharing the knowledge of what it takes to cultivate a successful consultancy career.
Liam Dillon (Head of FDC Group Professional Services) shared some of the secrets to success to achieve in what is a very competitive area. Dave Sheane (FDC Group Area Manager) communicated his views on the progression of FDC Group now and in the future.
After an information sharing session, Micheál O'Driscoll (Managing Director at FDC Financial Services and Secretary of Farm Development Co-Op) spoke about the evolution of the Co-Operative sector. He showed some wonderful insights into how Co-Operatives will evolve and present itself over the next number of years.
It was a wonderful day and we thank the management team for their support. Thank you to those in attendance for sharing their knowledge and values.
Related News
UCC Scholarships and Prizes Awards Ceremony 2022
SETU / FDC Group Collaboration
FDC scholarship with UCC creating future finance leaders
UCD and FDC Group launch exciting new €50,000 annual scholarship programme for MSc in Agricultural Extension and Innovation students